Planning is underway for the 2019 Westchester Science & Engineering Fair! The event will be held on Saturday, March 16th, 2018 at Sleepy Hollow High School. We anticipate this will be our biggest and best fair ever!
Judges: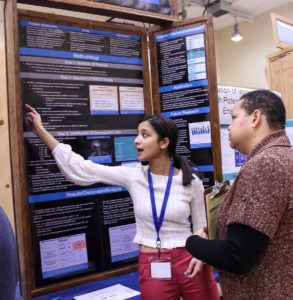 Please join us in support student interest and involvement in STEM in our community. We are looking for individuals with research experience to volunteer as judges for WESEF 2019.
Judge registration is now open and available at: http://wesefreg.org/judges/
More info about judging is available, please click on our link above.
Questions can be directed to our Judge Coordinator, Michelle: wesefjudges1@gmail.com
Participants/ Teachers:
Registration is now open for teachers to add student participants for the 2019 Westchester Science & Engineering Fair.  Please use our online registration form available at: http://wesefreg.org/  The deadline to register all participants is Friday, November, 30th, 2018. 
Please note that ONLY Science Research teachers should register students and that there should be only one account per school.  In other words, we highly recommend that in the case where a participating school has more than one Science Research teacher, that a single account is created where multiple users can login and add student information.
Registration information that is submitted by a student directly will be disregarded and that student will not be officially registered. Teacher registration is required.
All forms, the final research paper, and the official abstract form must be postmarked by Thursday, December 20th, 2018 to :
                
              Angelo Piccirillo
SRC Chair – WESEF
29 South Highland Avenue
Ossining, NY 10562
For those projects that require more time, an optional Extended Deadline (January 18th 2019) is available for an additional registration fee (combined $50 normal fee + $100 late fee). However, it is required that projects that intend to use the extended deadline are included in the teacher registration form due by November 30th, 2018.
**Any student that has chosen the optional, extended deadline (Jan. 19) MUST still submit forms 1, 1A, 1B and the research plan by Dec. 19th!!